Wellington Gold Awards 2013
The Wellington Gold Awards were held at the TSB Bank Arena, and while the roof wasn't blown away during the worst storm in 30 years, we did lose power for half an hour till generators kicked in to get the show back on the road. Sadly the lack of lighting during this time meant a few of the photos are a tad on the blurry side.
Photos can be purchased at my new studio on Jackson Street, Petone or by Contacting Me.
DISCOVERING GOLD
in association with Gibson Sheat Lawyers
WINNER: GREENBUTTON CLOUD FABRIC
Greenbutton grew out of the Lord of the Rings. yes when LoR needed heaps more grunt, real quick to process the movie (a single frame was taking 600 hours – jeez!) they set up a massive data processing facility in 10 days to do the job.
After the movies were completed, rather than leave this facility to gather dust, Scott Houston set up Greenbutton so that all business could have access to this massive capacity.
Greenbutton Cloud Fabric is their retail product for businesses and Cloud Service Providers. It places the power of their multi-award winning platform in business's hands to host and deliver cloud services.
This lets their clients manage workloads for multiple clouds; synchronize, secure and manage data in the cloud; meter and charge users on job-based consumption and manage department/project/user spending thresholds to control and apportion spend.
Greenbutton CloudSync provides a seamless way to synchronize data with the cloud. And their Commercial Engine and Cloud Resource Controller are designed to minimize cloud costs.
With customers like Pixar, SAP, NASA, and US Department of Energy, Greenbutton has gained excellent traction offshore.
CYBER GOLD
in association with PwC
WINNER: CATALYST IT
Catalyst IT has been a pioneer in (and fierce advocate for) open source content management since the firm was founded in 1997.
Open source software allows users to modify it to suit their businesses and services and to distribute it to others. by contrast proprietary software is restrictive on who can use it and requires users to purchase licences.
When Catalyst started out the market was chal- lenging, according to founder mike o'connor (pictured left with co founder jason Ryan): "There were some great technologies around but a hell of a lot of suspicion. When open source was very new, people saw it as being in- secure and unsupported . . . It took many years before we started to see a shift."
Catalyst, headquartered in Wellington, has 180 staff across New Zealand, Australia and the United Kingdom all producing software made with open source code that can handle sensitive information and large volumes of users.
Catalyst makes and runs the website that holds New Zealand's electoral roll, library information, online learning and several other government sites. It was behind the original Stuff.co.nz news website and recently launched a redeveloped site for hong Kong's daily English language newspaper South China Morning Post.
The Hong Kong newspaper, which has 1.3 million page views and about 500,000 people visiting the website each week, approached Catalyst originally as one of four companies it had selected worldwide to invite to tender.
Two years ago the company started Catalyst Open Source Academy, training up about 25 students between the ages of 14 and 18 each January at its Willis St offices.
VIBRANT GOLD
in association with Wellington Airport
WINNER: WELLINGTON ZOO
Open now for 107 years – Wellington Zoo was New Zealand's first zoo and is proud to be an iconic part of the wider Wellington Community.
Their Close Encounters mean people can
get hands on with some amazing animals – cheetahs, red panda, lions, giraffes or meerkats. 364 days a year (they only close on Christmas Day!) visitors can meet the staff, learn about the animals, see a kiwi up close, make conservation connections, and watch behind the scenes at the animal hospital, The Nest Te Kohanga with it's full programme of animal talks.
The Zoo gets excellent feedback from visitors and in 2012 earned a Certificate of Excellence from Trip Advisor – meaning their average rating was 4.5/5 across the year.
CEO Karen Fifield says: "We are heading towards the end of our ten year Capital Development Plan and every step of the way we've made things better, more fun and more engaging for not just our visitors but our animals and our staff too. We are innovative, funky and not afraid of being different."
"This week Wellington Zoo became the first zoo in the world to achieve carboNZero Certification – this means that they are carbon neutral
and accredited through the internationally recognised carboNZero programme. "
In 2012 over 224,000 visited the Zoo – more than ever before – a testament to the fantastic level of community support they enjoy.
They also have over 4,000 Zoo Crew memberships and each year more than 10,000 students visit as part of school programmes. Visitation in 2012 was 11% higher than in 2011 and 17% higher than 2010 – which shows
a growing popularity, when many visitor attractions are struggling.
2012 saw the opening two iconic new exhibits, Green Zoo, Green you and the Asia Precinct, leading to a 30% increase in visitation in September 2012 alone.
SUPPORTING GOLD
in association with Beca
WINNER: SUMMERSET GROUP HOLDINGS
Summerset is a leading nationwide retirement village operator with a focus on providing residents with a continuum of care. The integration of care facilities into their villages provides residents with the knowledge that care is available for them if their needs change.
Summerset is the third largest operator, and the second largest developer of retirement villages in New Zealand, with 16 villages across the country. They also have four land sites in Karaka, hobsonville, Ellerslie and Lower hutt, bringing the total number of sites to 20.
Summerset provides a range of living options and aged-care facilities and services to almost 2000 residents and was named best retirement village operator in New Zealand and Australia at the Australasian Over-50s housing Awards in 2010, 2011 and 2012.
Summerset's highly experienced senior management team is led by CEO Norah Barlow who has been chief executive since 2001. She joined in 1999, when they were a relatively small operator primarily on the Kapiti Coast.
Today they operate villages in Aotea, Dunedin, Hamilton, Hastings, Havelock North, Levin, Manukau, Napier, Nelson, Palmerston North, Paraparaumu, Taupo, Trentham, Wanganui and Warkworth.
They have 450 full time employees nationwide, with 50 based in the Wellington head office and 110 working in the greater Wellington region. Summerset had very strong financial and business results in 2012 as they continue to build on the gains made following their entry onto the NZX.
In 2012 the company exceeded $100 million in gross sales of occupation rights for the first time. The first dividend of 2.4 cents was announced and Summerset were very proud to enter into the NZX50 in December 2012.
ACC WORKPLACE SATETy AWARD
WINNER: WELLINGTON AIRPORT
In 2011 Wellington Airport set the ambitious goal of achieving workplace 'Zero harm' (no medical treatment injuries) by 2014. The target of Zero harm was achieved 2 years early in 2012.
The key to achieving this was a comprehensive Health and Safety Management Plan coupled with full employee engagement and ownership. The system documents and ensures proactive safety management that is routinely subject to review in order to enhance safety performance and minimise the risk of accidents occurring.
Manager Safety and Quality Assurance Jon Eyley explains: "It starts at the top with leadership and commitment by all the Company's directors, managers, and supervisors.
"We have health and safety inductions for all of our staff and visitors. There are clear policies and procedures provided in the Employee handbook and reinforced on visible noticeboards and our fortnightly "health and safety tip" email sent to all staff."
The systematic hazard identification programme, hazard register and risk assessments, which are completed by all team members, has been the key to achieving our goals."
A range of training programmes, formal workplace inspections and regular team meetings reinforce safe behaviours.
H&S objectives are part of all employee Key Performance Indicators. Employee injury rates significantly reduced over a three year period.
In the last four years the airport team has only incurred four medical treatment injuries and only three days of lost time injuries in the last two years.
INSPIRE WELLINGTON AWARDS
CREATIVE GOLD
in association with The Wellington company

WINNER: CLEMENGER BBDO
Clemenger BBDO began life as Colenso, the iconic creative hot-shop started in Wellington in 1969 that went on to create many of New Zealand's most loved ads.
Today helmed by Philip Andrew, Clemenger BBDO continues to build on that legacy and is Wellington's largest full service communications agency providing advertising, digital, design and direct marketing solutions to both local, national and international clients.
The Agency's work is well known throughout New Zealand households in particular their work for the New Zealand Road Safety campaign has set the benchmark for Road Safety work across the world.
The Agency's recent 'Ghost Chips' TV spot being the most talked about campaign in New Zealand in 2012.
Businesses, who trust Clemenger with their brands include Mitsubishi, Dulux, The New Zealand Transport Agency, Education New Zealand, Flybuys, Positively Wellington Tourism, Radio New Zealand, Goodyear Dunlop and New Zealand Post.
They were also the Agency the New Zealand Treasury chose to work with for the complex and sensitive Partial Privatisation campaign.
Clemenger BBDO has a staff of over 65 talented and passionate Wellingtonians who along with the company, regularly give their time and energy to support the city.
Most recently their Wellington in a Pint campaign sought to promote Wellington as the Craft beer Capital of New Zealand by inviting local home brewers to brew a beer that tastes like Wellington.
Amongst the winners were ' Celia Wade Brown Ale ' and ' Bye Bye Blanket Man'.
GREEN GOLD
in association with Greater Wellington Regional Council
WINNER: ENVIROCOMP
Karl & Karen Upston had owned a business selling both disposable and cloth nappies and regularly had the cloth vs disposable argument/ debate raised with them. Many trials have been conducted and the conclusion is that neither is any better or worse for the environment.
Nonetheless Karen was driven to trial composting disposable nappies on a commercial scale using the hotRot in-vessel composting system.
In 2009 Karen set up Envirocomp in Christchurch – the world's first commercial composter of whole nappies, sanitary and incontinence products – diverting them from landfill using new technology designed in New Zealand.
She created the business bringing together Kiwi technology with hotRot, a global manufacturer Kimberly-Clark and local councils first in Canterbury and now in Wellington.
The purpose-built blenheim St operation will be able to handle 15,000 disposable nappies daily, breaking them down to a safe, odourless compost.
Specially designed 'drop-off' bins have been placed around the Wellington region where families have secure access to deliver their pre- paid bags of nappies or sanitary hygiene waste.
Since it opened mid 2012 more than 300 customers have subscribed to the new Envirocomp service in Upper hutt and by mid- 2013 it is expected to match the Canterbury customer base of more than 700 households and 500 commercial customers.
The Upper Hutt plant is able to compost around 1000 tonnes per annum or around 14% of the Wellington region's sanitary hygiene waste stream with the capacity to quadruple in size.
EMERGING GOLD
in association with Yellow
WINNER: BIG EARS
BigEars was founded in 2004 by Mark and Julia.
Forsyth, and has developed into a world leader in customer feedback by creating supertools for listening to customers.
BigEars collects voice feedback and allows businesses to respond to that feedback quickly, helping repair broken customer-relationships, increase customer-loyalty and ultimately retain and grow their customer base.
In 2012 BigEars launched Customer Radio – an easy-to-use, customer-friendly voice feedback product accessible 24/7 from desktop, tablet or smartphone. Customer Radio can dramatically improve customer experience by using voice feedback intelligently and instantly.
It is the only feedback system of its type in the world – an up-to-the-minute, curated 'highlights-reel' of quality, insightful feedback that organisations can act on.
With alert-emails Customer Radio allows businesses to respond quickly to customer complaints, repairing damaged relationships and ultimately turning detractors into promoters. It provides a creative way to get to the whole organisation listening to the voice of the customer – right up to CEO level.
BigEars is all about 'doing cool sh*t with awesome people'. They want to attract the best clients, the most talented staff, and the most experienced consultants, and they want to exceed expectations on every level, every day.
In 2012 they pitched to two Wellington based companies in particular – Kiwibank and Loyalty NZ – and they are now working successfully with both.
Within the next three years BigEars hopes to be operating in four continents (Europe, America, Australasia and Africa) and to have revenue of over $8 million dollars. They plan to further develop their range of products as they take BigEars to the world.
TEAM GOLD
in association with Southern Cross Health Society
WINNER: OUTWARD BOUND NEW ZEALAND
Established in 1962 Outward Bound New Zealand was set up for the purpose of helping New Zealanders discover what their true potential may be outdoors.
Their Mission is to inspire personal and social development through value based experiential learning in an outdoor environment.
Their courses cover the youth, adult, professional and social/disability sectors. In the past 12 months close to 2,000 New Zealanders have undertaken an Outward Bound course with over 52,000 having been on a course since they were established.
Their total full time staff is 64, 11 are based in the Wellington office with the remainder, 53 based at Anakiwa in the Marlborough Sounds.
The challenge facing the organization is to ensure that there is a seamless operation flowing down from the board, the Wellington office and the team at Anakiwa.
Outward Bound has set up a comprehensive programme of staff training, course reviews, safety audits and constant team communication – both formal and informal to ensure the best experience for both staff and customers.
CEO Trevor Taylor: "At Outward Bound we seek to foster an open communication, team based no-blame culture, always reaching for greatness in everything we do. We have a saying – it's not about us, it's about our customers and ensuring they have an exceptional experience and become Net Promoters of Outward Bound.
"It's also about guardianship of the Outward Bound brand. We have to ensure that when we pass the baton on that Outward Bound NZ is in even better shape than it was when we joined, so that another 50,000 New Zealanders can experience OB."
GLOBAL GOLD
in association with ANZ
WINNER: ATA RANGI
Clive Paton is a true pioneer. by selling off his cowherd in 1980 and (rather bravely) planting vines in a stony paddock on the edge of Martinborough, he helped lead to the reinvention of a town AND to New Zealand's global reputation for very fine Pinot Noir.
Resisting a steady stream of suitors over the years, the 'Tight Five' – three hands-on owners, vineyard manager and winemaker – have expanded facilities and production in a steady and measured way to an annual production of around 17,000 cases.
The wine's exceptional quality continues to attract outstanding global media attention in a very crowded market, helping to strengthen 'Brand New Zealand' with world-class export wines.
In 2012, Ata Rangi exported 63% of the record $4.2m turnover to 26 markets.
As well as being an elder statesman in the wine industry Clive has become something of an environmental warrior, with major tree planting at the Ata Rangi bush block and heading an ambitious 40,000 ha restoration project across the Aorangi Ranges and coast south of Martinborough. Ata Rangi also has a strong association with Project Crimson, sponsoring the renewal of rata through the sale of their Crimson Pinot Noir.
It is one of very few wineries to be accredited with the ISO14001 environmental management system, first achieved way back in the mid 90s. Clive says "Conservation is in Ata Rangi's DNA."
Ata Rangi wines can now be found in many of the most prestigious restaurants, retailers and resorts of the world – from Rockpool and Aria in Sydney, harrods, Roka and Gordon Ramsey's in London, Aureole, Per Se, and Sherry-Lehmann in New York to exotic Soneva Fushi in the Maldives.
THE DOMINION POST TRIBUTE TO A WELLINGTON ICON
WINNER: ANDREW & BRIAN WHITTAKER
(Received on behalf by Holly & Matt Whittaker)
THE DOMINION POST WELLINGTON GOLD SUPREME AWARD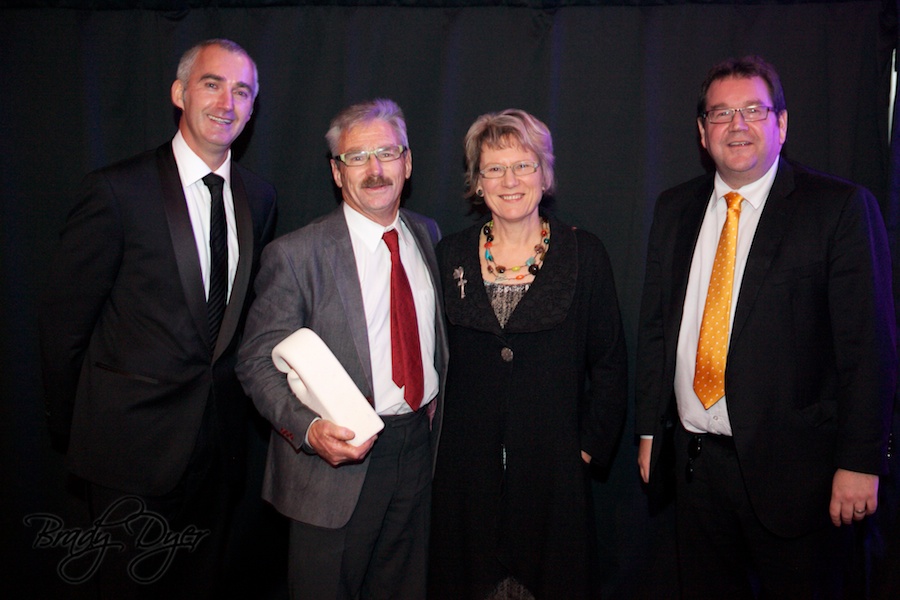 WINNER: ATA RANGI