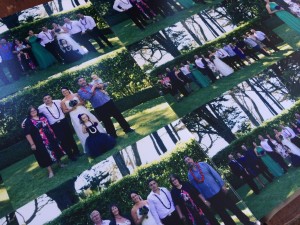 So the time has come for you to choose your favourite images to be displayed in your new wedding photo album. We've put together a bit of a guide to aid you in your selection process. Although, this is just a rough idea to help you – we can design and use anything you select, so at the end of the day it's your decision on what images you want in your wedding album.
If you find the whole idea of choosing just a small number of images all too hard – then just let us know you trust our judgement, and we'll go ahead and choose our favourites!
An image with the bride & groom on the right hand side to be used as the front cover. The image wraps around to the back of the book.
At least one image which will be cropped panoramic and displayed spread over two pages (usually one of whole bridal party)
1x Groom with his groomsmen
1x Bride with her bridesmaids.
Selection of getting ready photos
Selection of ceremony/reception setup (with any props, or specific photos)
Selection of entire bridal party photos
Selection of just bride & groom
Family photos (Do you want all the photos, or just the images of your immediate family and parents etc)
Once we have designed your book, you will be send a PDF proof so you can view the layout & images before it's sent off to the printer. It's not uncommon at this stage to decide you liked another photo better, or want the layout tweaked. This is all included in our service.