Unless you have family or a friend who's a graphical designer, nailing your wedding stationery can be difficult and expensive!
You might not think that you even need wedding "stationery" but at bare minimum you'll want to send out wedding invites, and thank-you cards after wards.
Minted Wedding's is a great website for not only great ideas, but they also let you purchase the designs directly through them. You work with the designer who made the design you like, they customise it for you with your wedding details, and then Minted Wedding's sends you the finished product. The quality is very good, the stock (how thick and good the paper feels in your hand) is great. I have one of their sample kits in my wedding studio if you want to ever take a look.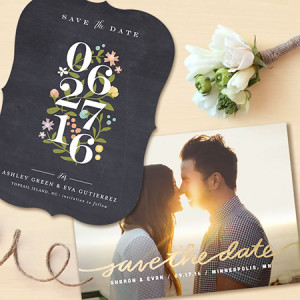 Other things you might not have considered are Save The Date cards, which to be honest are a bit more of a tradition – but are still a good idea if you have family overseas and want to let them know the date well in advance so they can start looking at flights etc. If you're on the ball though, and want to keep costs down (printing & postage) just get the details finalised and send the invites out nice and early. Likewise if you're having a destination overseas (Rarotonga, Fiji etc).
Here's some other things you might not have even considered too.