Well the 4:30am start wasn't as bad as we had thought and we tried to sleep a bit on the train. The first hour was good as it was just Em & I in a compartment of 6 seats, so had a whole row to lie down and stretch out. It's set out much like the seats on the Hogwarts Express from Harry Potter. Three seats facing each other, with it's own door to the corridor running the length of the carriage.
After 4 hours we arrived in Pisa. We found a luggage storage place at the Train Station, so left our bags there as we headed out to wander the streets of Pisa.
It's always hard walking any streets with Emma as she has an obsession with shopping, almost giving my mother a run for her money!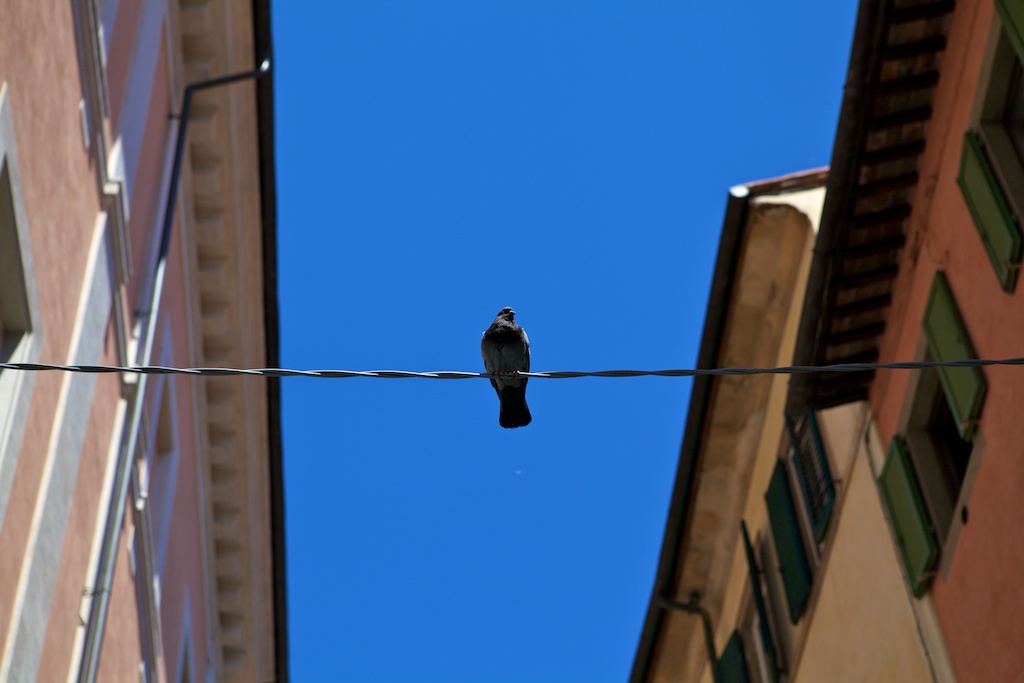 We got to the Leaning Tower after an hour, and had a few token photos. Couldn't come this far and not do them – haha.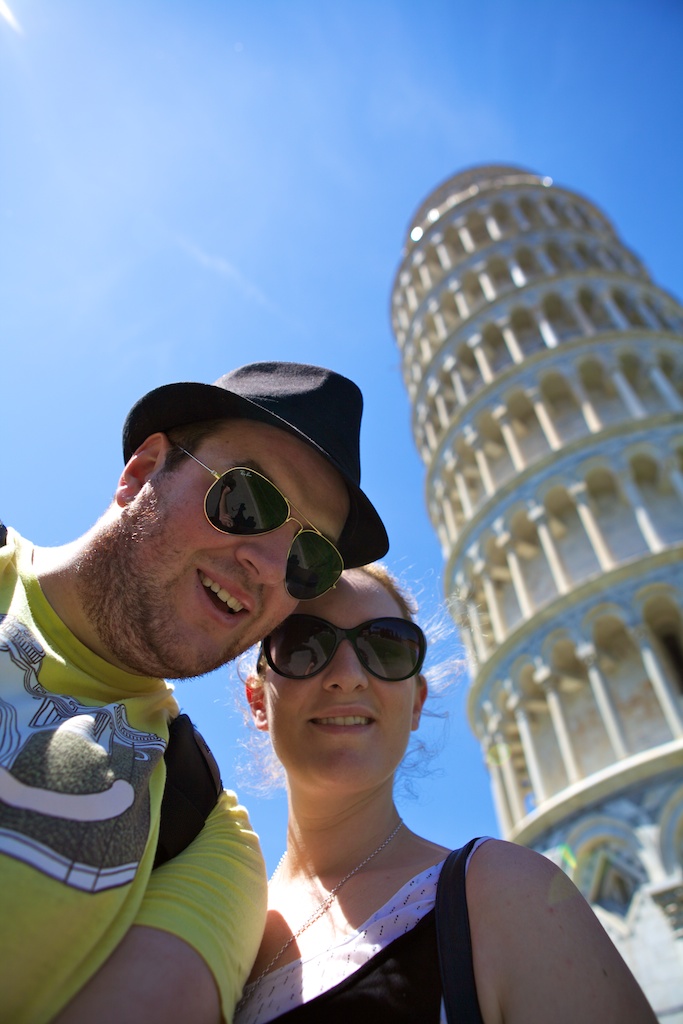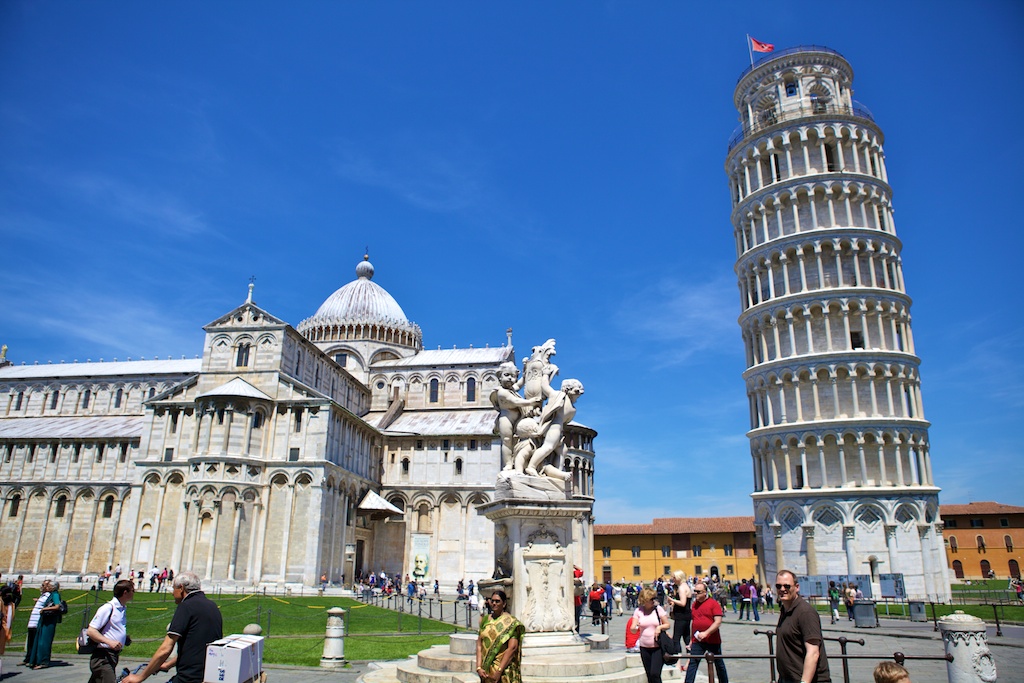 On the way back to Pisa Train Statin dripping with sweat we noticed this sign!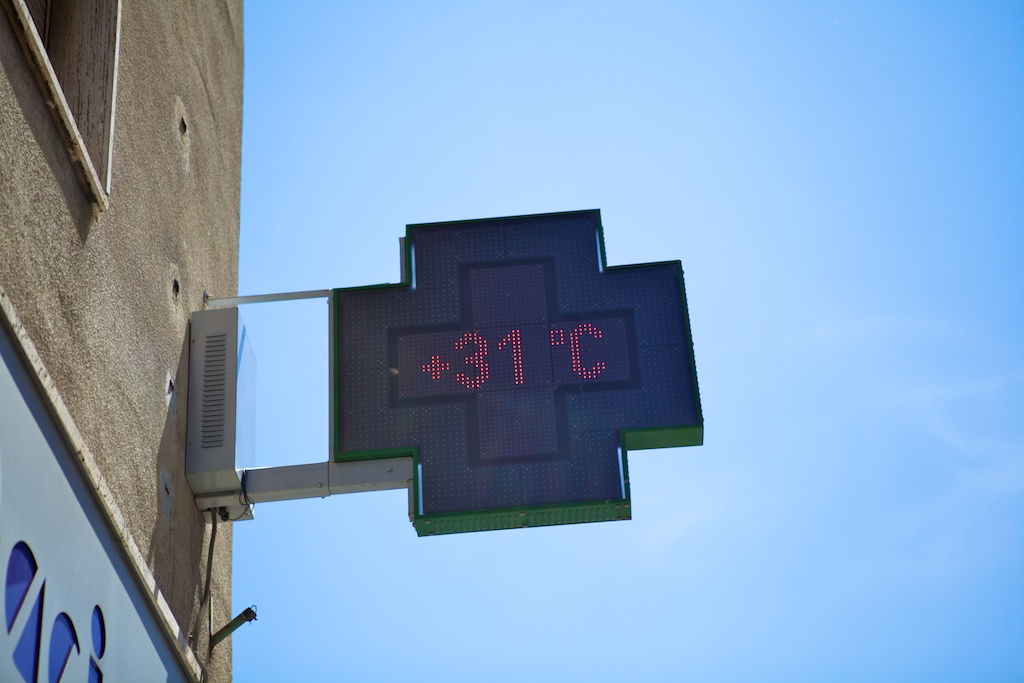 After a half hour train ride we had arrived in Florence, and from the moment we stepped off we knew these couple of days were going to be memorable.
We walked the 1km to the hotel, our backpacks being as hellish as ever! Which luckily would be the last time, as later this day we bought two brand new suitcases with WHEELS!! They're nice and big so they fit all our stuff & the backpacks too. Now we look a bit nicer turning up to the flash hotels, rather than looking like backpackers haha.
We arrived at Platinhome's Piazza Republicca hotel for our first night. They have another hotel nearby where we spent our second night in Florence.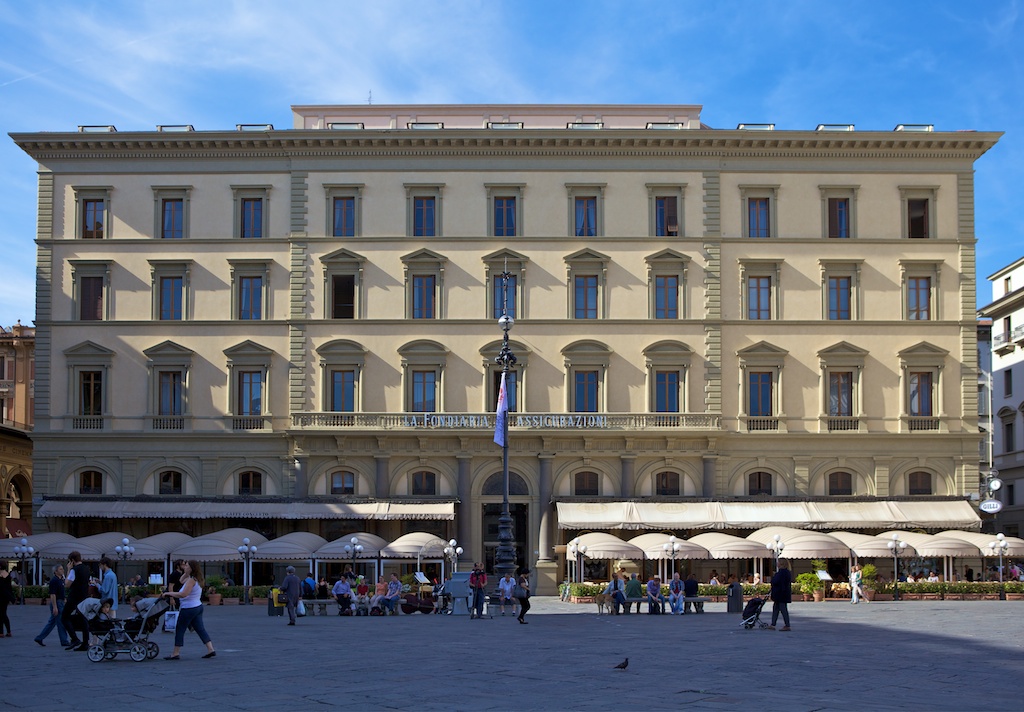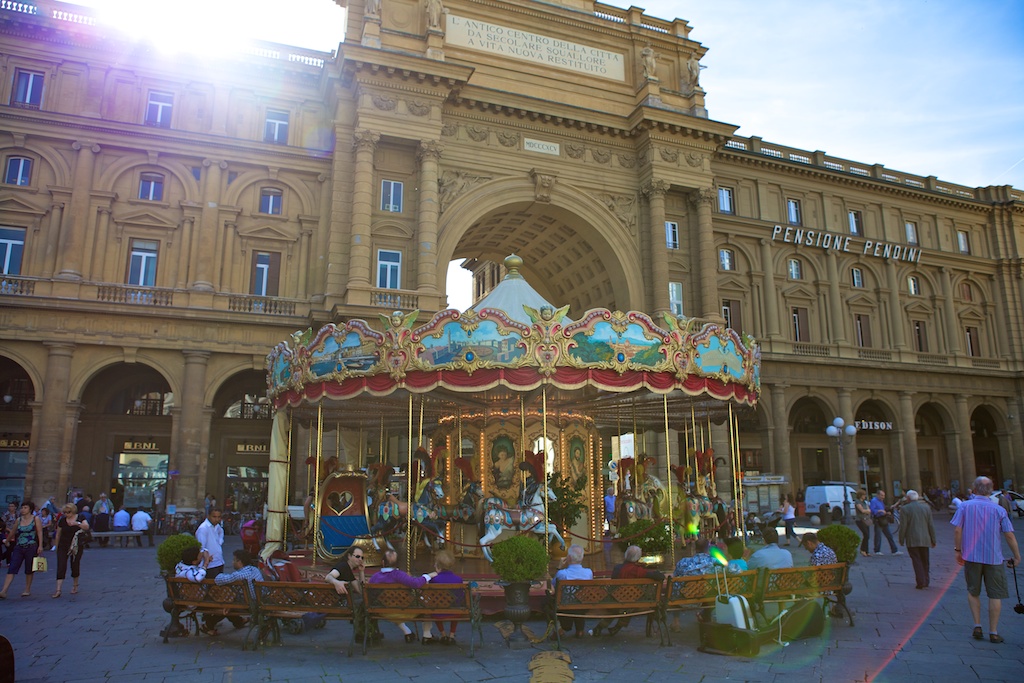 It's probably worth noting that this blog will be about both days in Florence, and I am currently writing this on the train from Florence to Rome.
We went inside and met the lovely Maarja, who showed us our room and all its features. From the second you step into Platinhome you feel relaxed, almost like you've just stepped into your own home – they are that welcoming!
After the 20min walk from the hotel in 31*C heat, we were ready for a shower. Lucky for us the shower not only had two monsoon shower heads with changing-colour lights, it also had a cold mist button which filled the giant glass shower with cold mist! Amazing.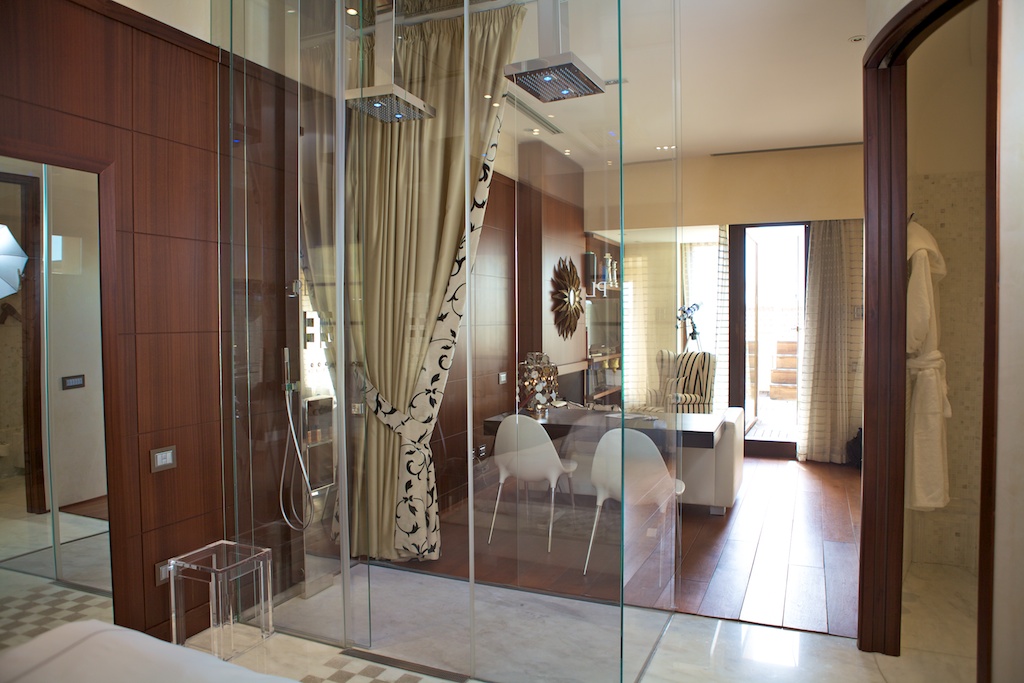 We headed out to explore for a bit, found the amazing Duomo which dates back to 1296, it's constructed out of real marble of the colors it looks, rather than painting it as is often done elsewhere.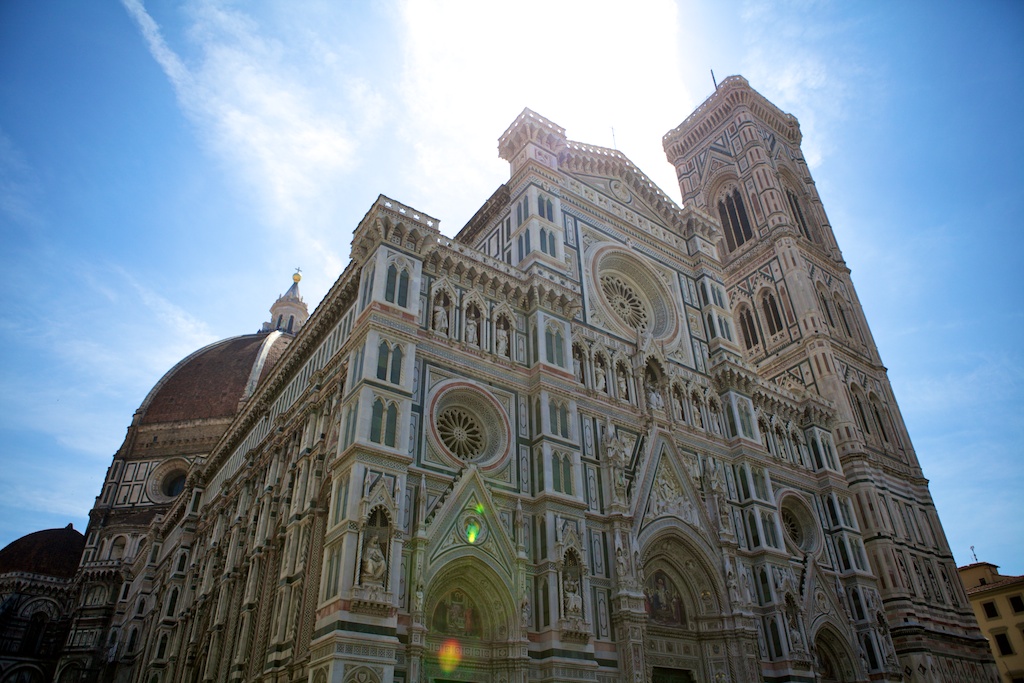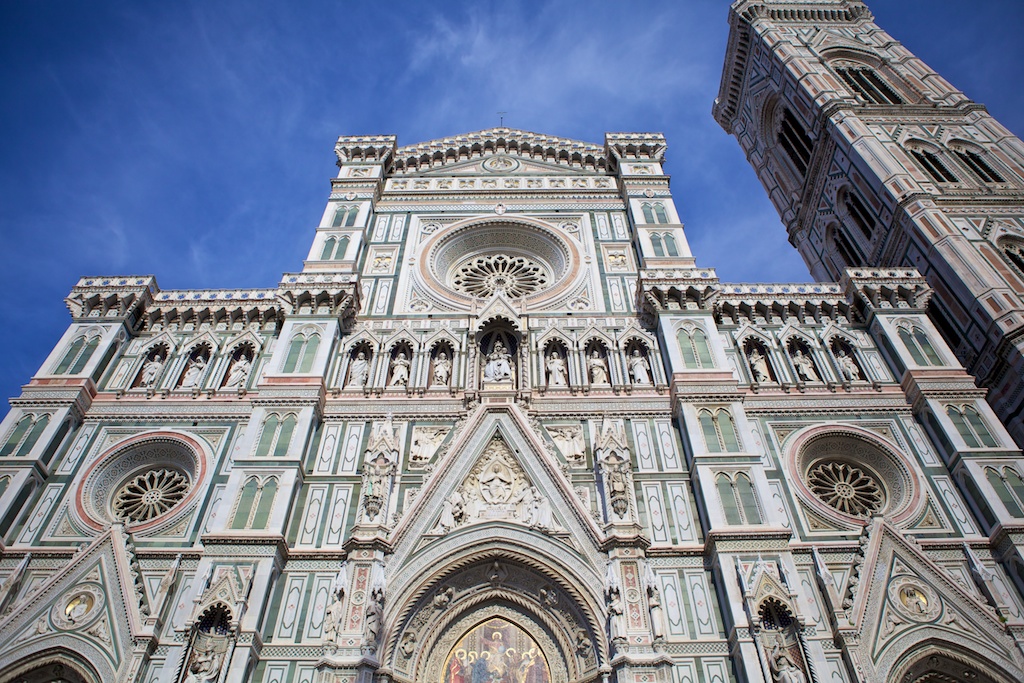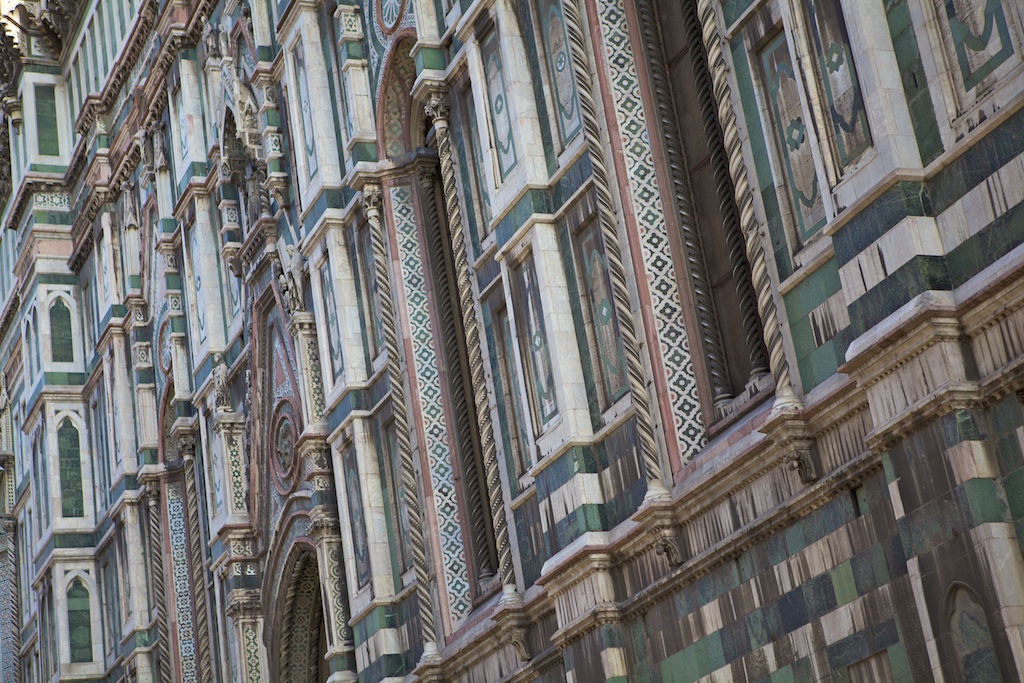 Back to the hotel for a few hours of photos around both hotels (check them here) then we were back in our room getting ready to go out for dinner to a restaurant that Marrja had recommended.
We had an hour or so to kill, and when we stepped back into the room it was flooded with the most brilliant colours of red and yellows I have ever seen.
Our apartment was the penthouse suite of the hotel, and we were spoilt with a 360 degree view across the skyline of Florence. This was taken a couple of hours before the sunset, but I'm sure you get the idea – it was spectacular.
Standing on our deck, Veuve in hand, Emma commented that this was the most amazing sunset she had ever seen and that this moment "couldn't get any better". Boy was I about to prove her wrong!
I popped inside quickly, and then suggest she do a long panoramic video of the skyline and finish on me and I'll wave and say hello… Far from the truth as you will see below.
After ten minutes of hugs and tears we woke our parents up in New Zealand to tell them our exciting news – WE ARE ENGAGED!!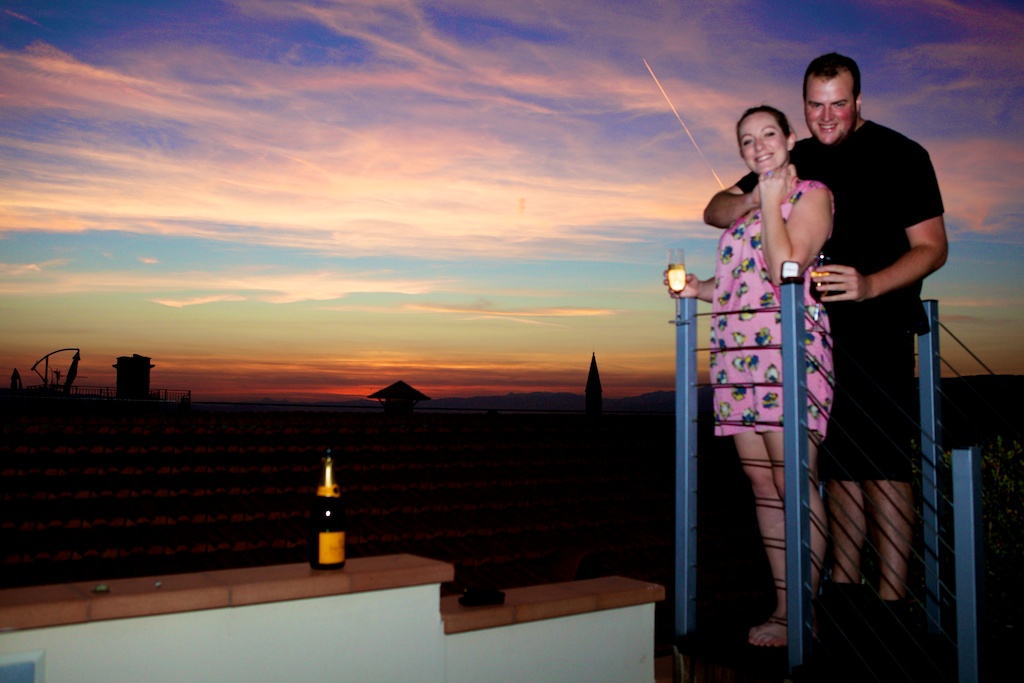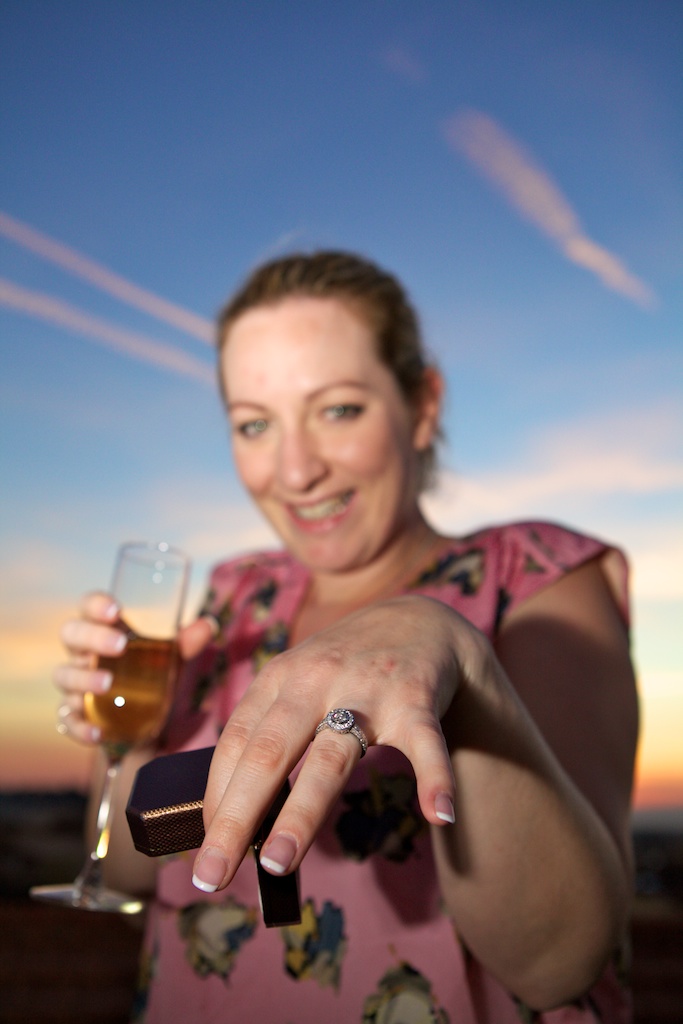 We then headed down to reception to meet Maarja who was waiting for us, and we explained why we were late coming down, and she was equally as excited for us after learning why.
We headed down the street to a lovely restaurant right under the beautiful Duomo.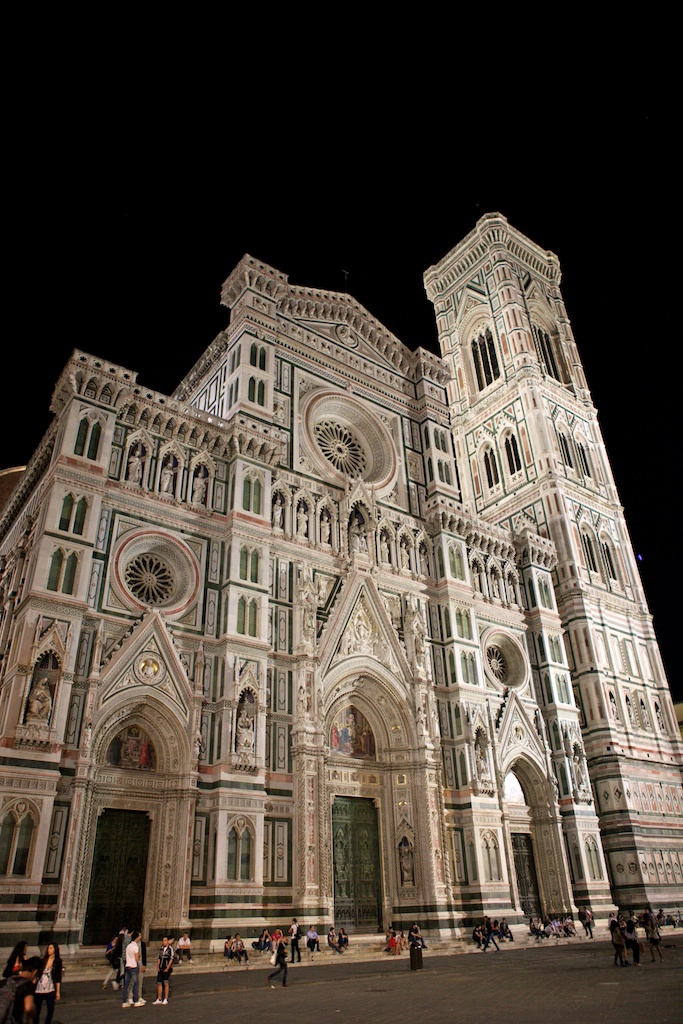 I'm not sure if Maarja mentioned to the staff our exciting news, but they were overly friendly and the food was devine!
Having been told previously I couldn't leave Florence without trying a 1kg T-Bone, I decided what better time to celebrate.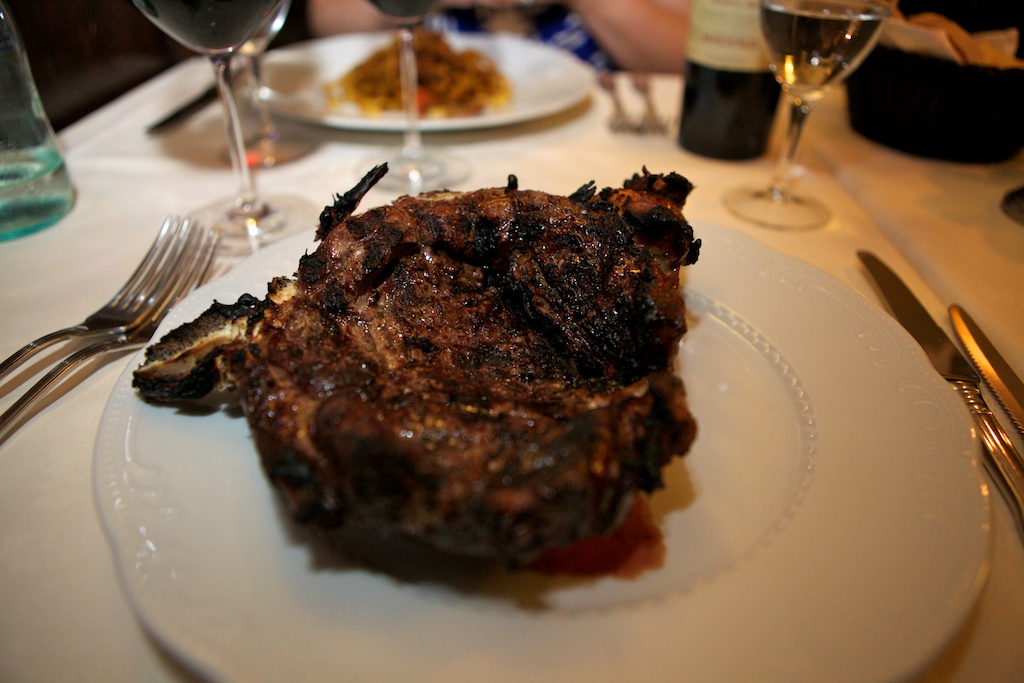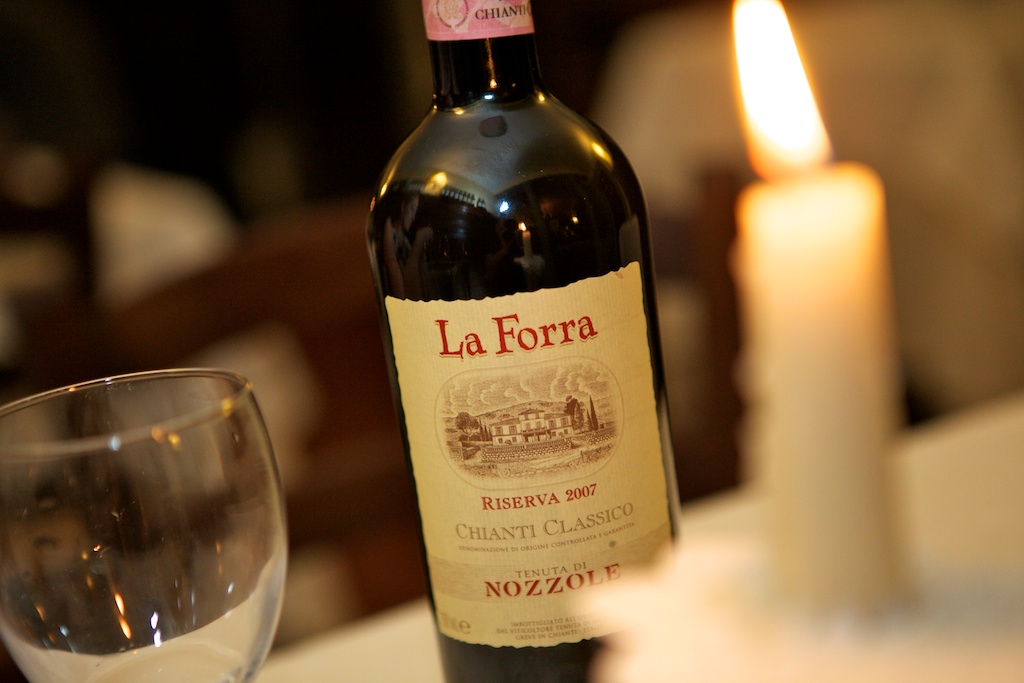 A bottle of wine, dessert, and lemmonchello later, we were back at our hotel finishing our glasses from Veuve from before. It couldn't have gone more perfect!
Everyone is asking to see the ring, so here's a few close up photos of it.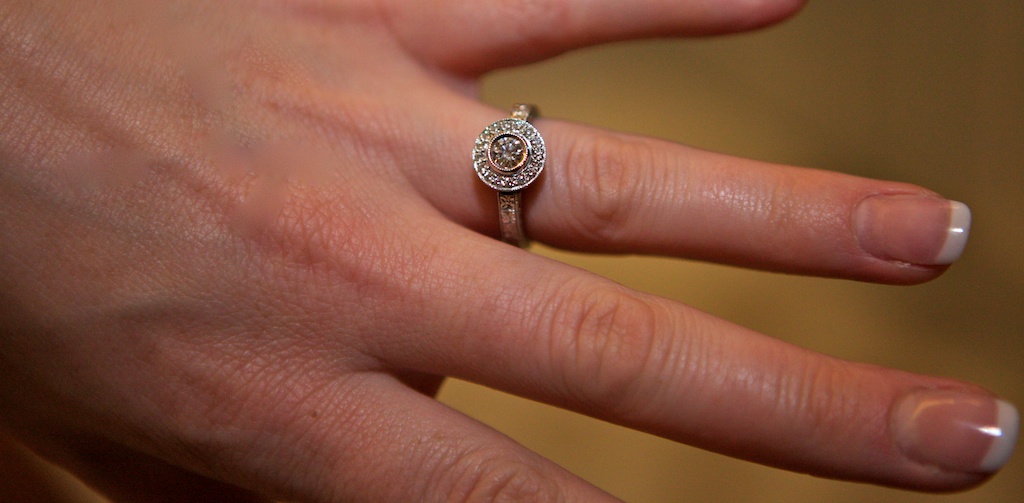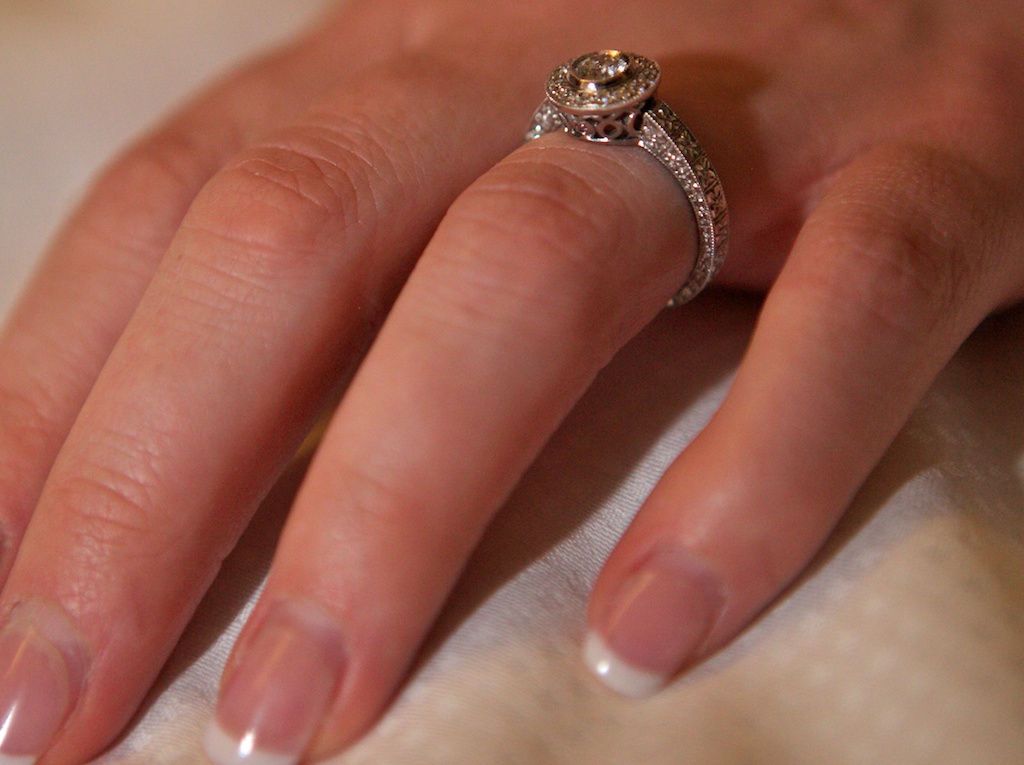 For those that want to know (i.e. women), the ring was designed by Pacific Jewellers on Lambton Quay. I went in there with months worth of hints and things Emma had said she liked. Pulling aspects of different designs together saying I like this band, but this basket, and this diamond with this size, I sure gave Colin from Pacific Jewellers a fun task haha. It has a 0.5ch diamond set in the middle, with 16 0.129ch diamonds around the outside, all housed in white gold, all custom designed from scratch. The filigree basket also has two pink diamonds in either side, which are Emma's favourites!
Pacific Jewellers were amazing during the whole process, after a few visits narrowing down the design, seeing 3D drawings of the basket, and everything else I was confident the ring was going to be exactly what I wanted.
Getting the call it was ready, I jumped in the car and raced to town for a "meeting" – aye Emma 😉
It was perfect! I knew she was going to love it!! I left it with them, and got Julia to pick it up for me to minimize Emma finding out. It then spent the next week hidden in my room, before being hidden in my carry on bag with my laptop and camera equipment. Needless to say this bag did not leave my sight at all during this trip so far!
After a bit too much champagne, red wine, and limoncello from the day before our heads weren't on fine form when we woke up for day two in Florence.
We didn't get up to an awful lot, but it was lovely just going out for an amazing breakfast, walking the streets and discovering one of the last remaining bridges in Europe that still has shops on it (as they used to be).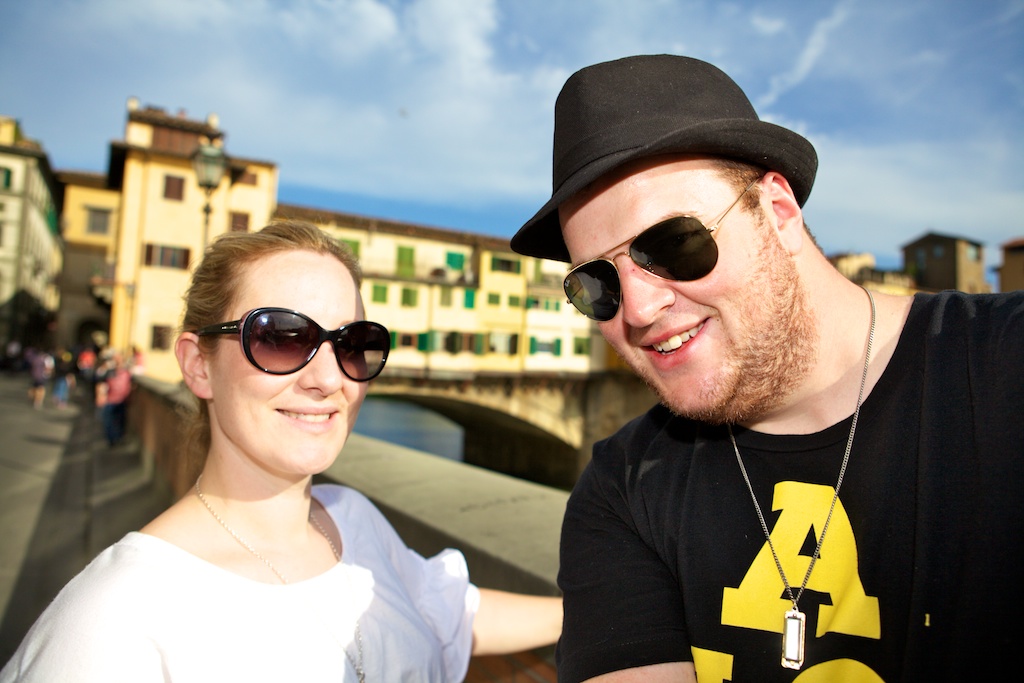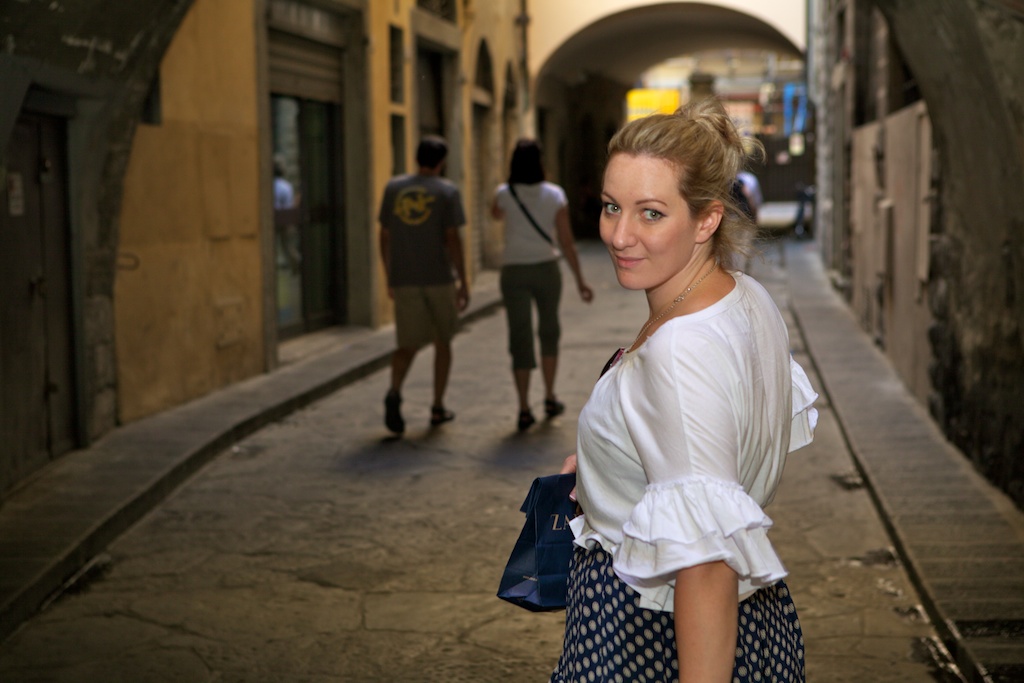 We also found the Il Porcellino (Italian "piglet") by luck, which is a giant bore. You put a coin into the gaping boar's jaws with the intent to let it fall through the underlying grating for good luck and rub the boar's snout to ensure a return to Firenze, a tradition that has kept the snout in a state of polished sheen while the rest of the boar's body has patinated to a dull brownish-green.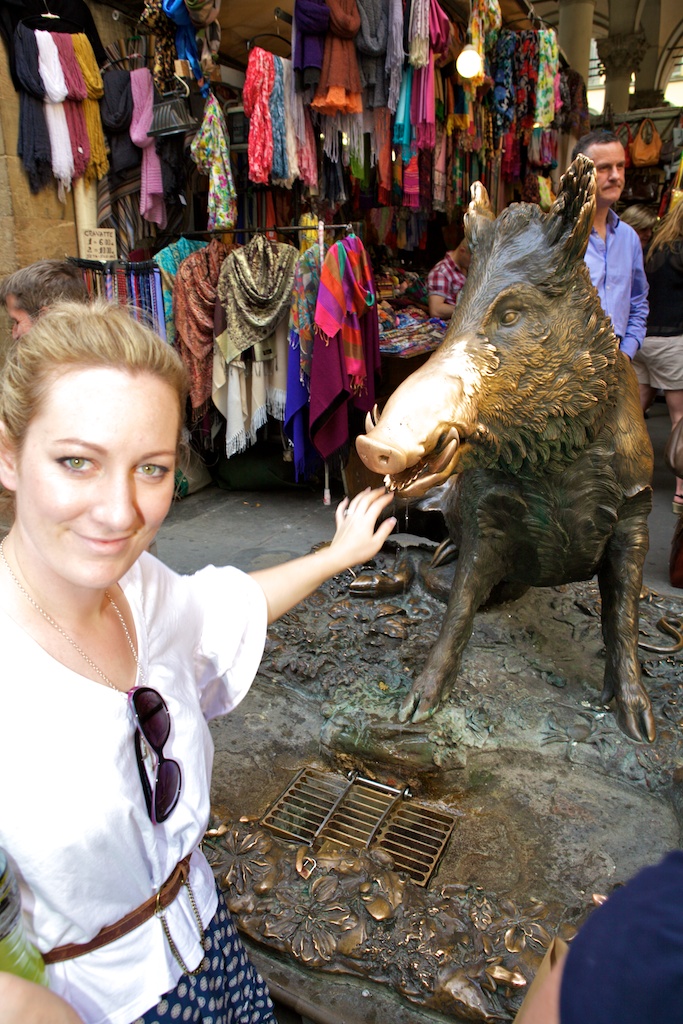 After a bit of a splash out for our celebratory dinner, and the want to try a range of yummy Italian goodies, we headed to a supermarket not far from our hotel and bought one of everything we could find that looked yum! The whole shop totalled on NZD$55!
The bottle of wine was only NZD$5!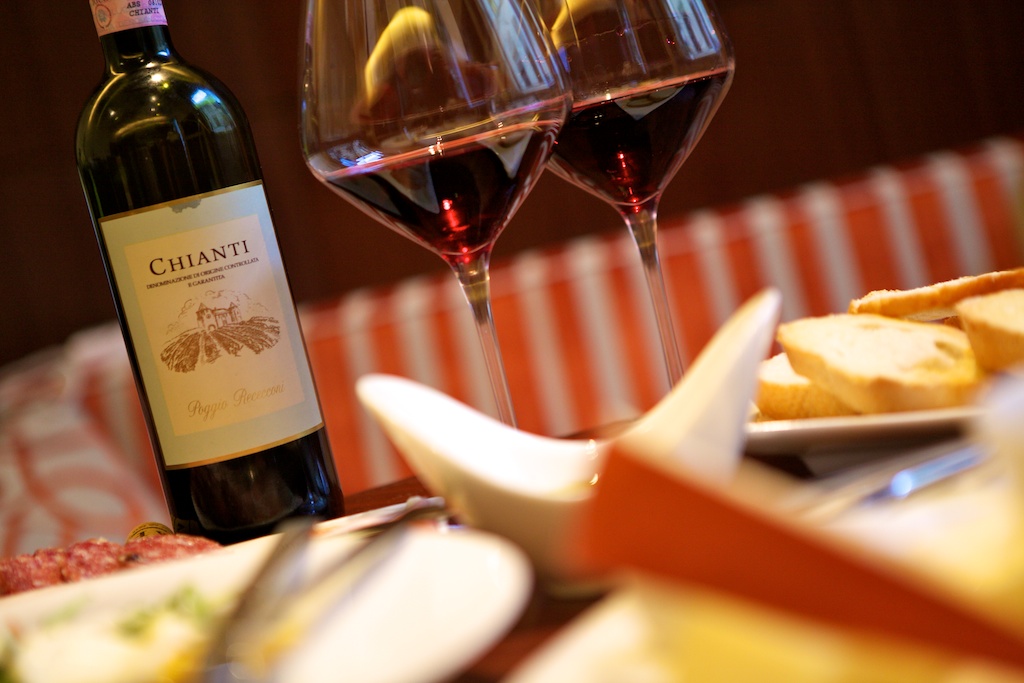 We laid it all on in our room before enjoying it during the night as I worked on photos from the last couple of days, and listening to some interesting Italian radio station.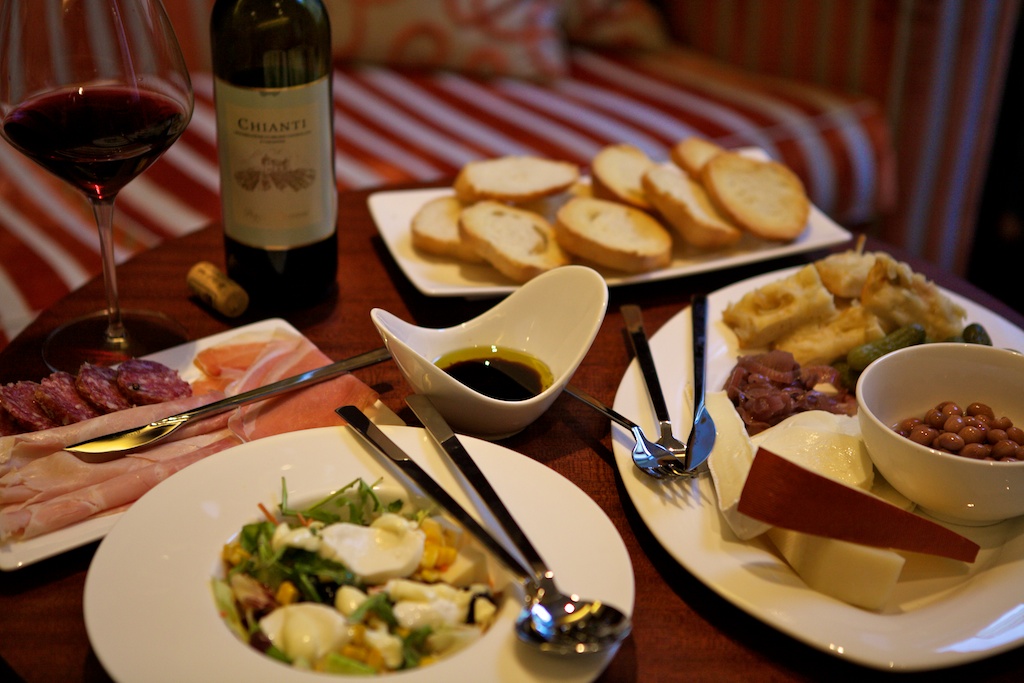 Our second room had the most amazing bathroom ever! His and hers matching sides, with a giant bath in the middle. A huge monsoon shower head above rains down on you, and after two long days in Florence I'd have to say that bath was amazing! It was nice to finally find a bath I could stretch out in, being 6″4′ tall that's always been a dream haha.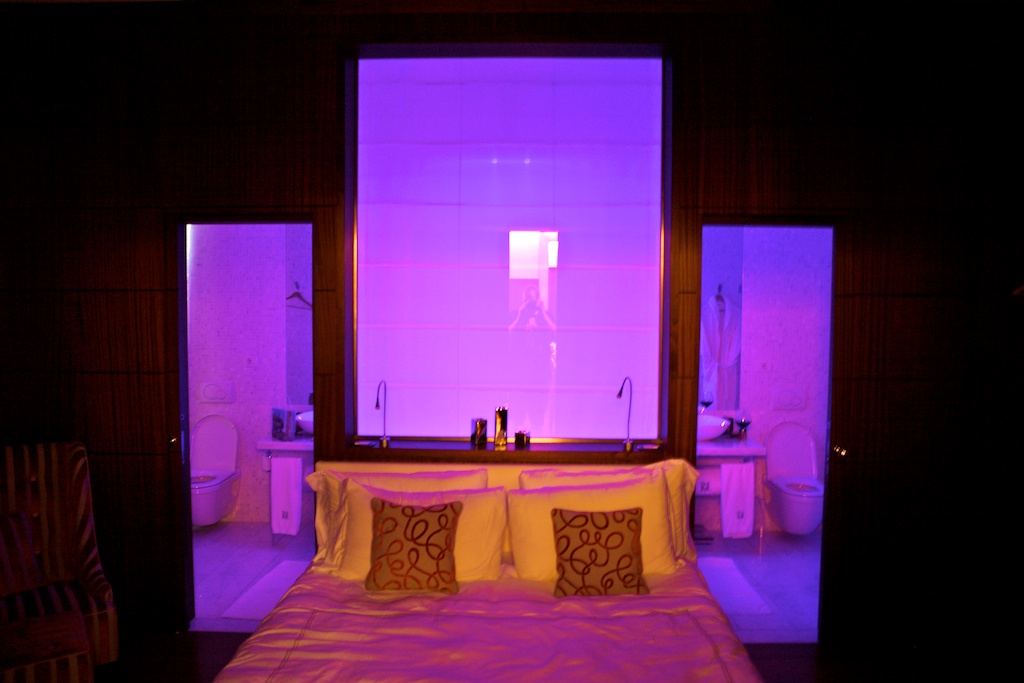 So this morning we were up at the lovely hour of 7:00am, which was awesome after being up till 2am editing photos. We're now on the train flying through the Italian countryside, about half an hour out of Rome.
Three huge days are planned, so unsure when the next blog will be out, but I trust the length and significant important to this one should keep you fueled for a few days.
Chao! (Goodbye in Italian, said "chow")